Stream

My online stream composed of my del.icio.us, vi.sualize.us, hypem, vimeo, twitter, github, scoop.it feeds



Display: [ALL] or only: [HYPEM] [FLICKR] [VIS.UALIZE.US] [DEL.ICIO.US] [VIMEO] [WP POSTS] [TWITTER] [GITHUB] [SCOOP.IT]
Loveland by Charles Stankievech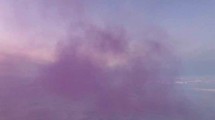 Charles Stankievech
LOVELAND (video still), 2009–2011
Video installation
Soundtrack by Tim Hecker

Yesterday I ran through the Quebec Triennial at the MAC in Montreal, and was pretty much only intrigued by this video installation by Charles Stankievech. You encounter a projection of a white arctic landscape inside a white painted room. Slowly purple smoke beings to fill up the landscape, accompanied by atmospheric noise by Tim Hecker.

The work is inspired by painter Jules Olitski's Instant Loveland and The Purple Cloud, an obscure science-fiction story. Stankievech says: "Our experience of nature is sublime, and there is something sublime in the video of a smoke grenade exploding into the white landscape." Yes, there is.
edit
wp | stream | art
Thu, 13 Oct 2011 17:54:21